Modern technology thanks to pellets
Olimipia Splendid combines the 50 years of experience with heating furnaces with the modern pellet technology. The high quality of the material,
(the hearth, rear panel and heat exchanger made of cast iron), guarantee for maximal efficiency autonomy. This exquisite furnace with its elaborate design, in glazed ceramic, is available in two varieties; in the colours, beige and bureaux.
The furnaces are with pressed ceramic and glazed relief decoration, two stage fan burner, provide for a high thermal effectiveness and less smoke emission. The glass ceramic is self cleaning.

Some data:
Full automatic mode with daily and weekly programming.
Temperature control.
Pellet container, (capacity 18 kg), to refill from above.
Electronic lighter, resistance 400 W.
Digital operating panel.
Ash drawer is underneath.
Thermal efficiency factor is over 80%
---
For further information
Website: Olimpia Splendid ‌‌‌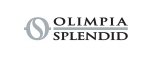 ---
viewing site
Before delivering a machine, we will gladly make an inspection at no charge.
offers
If you decide to buy one of our new machines after visiting us, the service is free of charge.
installation
With exception of special cases, the delivery and installation are included in the price.
If you decide on one of our machines, we will make you an offer while being able to profit from an excellent discount.